Want your next event to be good or……GREAT?

Home parties
Corporate events
Birthdays
Seniors groups
Weddings
Client/employee appreciation
Retirement communities
Anniversaries
Cocktail receptions
Open house
Fundraisers
Social clubs
Book Houston's most popular piano entertainer!
"Theresa was above and beyond our expectations! She is an absolutely AMAZING pianist and the most fun entertainer we've ever experienced. Our guests had such a great time no one wanted to leave! Highly, highly recommended! Happy to book her again and again."
– Katherine & Jim McKnight, Houston TX
CORPORATE ENTERTAINER

Conferences, awards/appreciation banquets,
after dinner, association meetings, staff development
Looking to liven up your next meeting? Do you want something different to keep people energized and engaged after dinner?  Theresa uses her musical expertise and super sense of funny to create customized programs with information gathered about your audience that results in hilarious fun! Audience participate in games that improve listening skills, teamwork and communications while they laugh and learn things about each other that will keep water cooler conversations WAY interesting (no kidding).
"Theresa was the ultimate fun entertainer for our client appreciation dinner. Her talent for playing the piano is beyond words!!! She was very easy to work with and has an amazing bubbly personality that had our clients laughing, singing & dancing while playing the games she created. Everyone enjoyed it so much they asked if she could come back next year.  It was a great night of laughs!"

       – Petra Benefits Financial Services
SPECIAL OCCASIONS

Celebrating a birthday or anniversary? Getting married?
Hosting a home party? Chairing a charity event?
With 2,000 songs in her head and 30 years world-wide experience as an entertainer, Theresa creates an atmosphere of fun for all occasions by playing requests from your guests without shuffling through a gazillion sheets of music (don't you hate that??) From Frank Sinatra to Lady Gaga, blues to Broadway, classic rock to golden oldies and an extensive international song list, Theresa's music crosses generations, borders, tastes and cultures. A polished reliable professional, she adapts to play soft background music during dinner to enable conversation before kicking it up a notch for extra special entertainment that has your guests talking long after.  Theresa's sparkling personality and amazing talent as a seasoned entertainer, has proven to be a HUGE hit with Houston hostesses that want something extra special for their events!
"We keep having you back each year because our guests remember how you made it so much fun with song books for everyone to sing along! Usually our people are very reserved at company parties but you changed all that and we loved it. Thanks a bunch!"
         -Houston Eye Associates
SENIORS ENTERTAINMENT

 Independent & Assisted living communities, Alzheimers gatherings, church & social groups
One hour of customized interactive entertainment that engages and energizes residents in senior living communities, special groups in churches & temples, and country clubs looking to provide a unique evening of fun for their members.
Age appropriate musical trivia games
Song requests played
Audience participation for maximum engagement
Lyric sheets provided for group sing along
Dance music to encourage movement
"OMG Theresa, you are the BEST!!! We received tons of compliments from our residents on your entertaining program. Your high energy, great humor & awesome talent as a pianist captivated, engaged & uplifted everyone! They loved how you involved them throughout the whole show and kept their attention. We want you back as often as possible!"

– Maryanne Murphy, Activities Director, The Forum @ Memorial Woods 
NO PIANO? NO WORRIES.
HAVE KEYBOARD WILL TRAVEL!
MISTRESS OF CEREMONIES
 Need an entertaining emcee for your next event?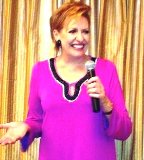 With a quick wit, outgoing personality and exotic Aussie accent, Theresa engages and interacts with audiences for a variety of special events as mistress of ceremonies. Keeping to your schedule and theme, she ensures the event runs smoothly and on time, while entertaining your group with an ever-ready sense of humor. Professional, reliable with a commanding stage presence, Theresa is the ideal solution to avoid a snooze fest and keep your group happy, engaged & entertained!
"Outstanding job! You added that extra touch – just what we needed – to bring the rich history of our company to life. You are the consummate professional  entertainer and we were so proud to have you be part of the 120th celebration. Thanks for making us shine!"

– Betty Warren, VP Residential Properties, Stewart Title
THERESA'S CD
This collection of popular piano music has proven to be a big hit with people all over the world. Influenced by the late Liberace, Theresa's extraordinary talent as a pianist shines through her interpretations of the songs with the flair of a seasoned entertainer. Since she is the sole artist on this recording, it sets the perfect tone for driving, offices, dinner parties, reception areas and anytime you need to elevate your mood.
IDEAL FOR: Gifts * Party favors * Conference attendees * Door prize * Event memorabilia * Raffles
More Rave Reviews
"I cannot remember a time when our entertainer has been more engaging and fun! The laughter in that room was infectious and I loved how you just "went with it!" We were surprised by many of our Care Partners who normally are very passive but participated in your program in ways we've never seen. How you play that piano was something to behold!"
– Gina Ebers, The Alzheimers Gathering Place

"Theresa was fabulous!!! She is so very talented as a pianist, she knows exactly what to play for the crowd and she was a beautiful smiling addition to our ladies luncheon. Everyone loved her!!!"
– Sherry Menger, Chapelwood Church, Ladies Luncheon

"Outstanding job for our members wine dinner! It was the first time I've ever seen them crowd around the piano watching anyone play. We want you back for ALL our special events."
– Kerry Ream, Sugar Creek Country Club

"Our residents LOVED you! They were fully engaged the whole time and it was so wonderful to see the joy on all their faces as they sang along to songs they knew. We want you back as often as possible!"
– Christine Keegan, The Hallmark Senior Living

"Theresa is an exceedingly talented pianist and added a touch of extra style to my event. All who attended our dinner party commented on the quality of her performance, yet there was nothing intrusive about her presence. I will definitely book her again in the future!"
– Jason Luther, Houston TX

"Our seniors asked me to book you more often because they enjoyed you so much. Thanks for making me look so good!"

– Cathy Lightfoot, The Buckingham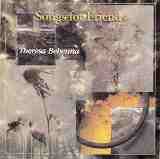 CD SONG TITLES (click on title to listen)