The Power & Profit of Gratitude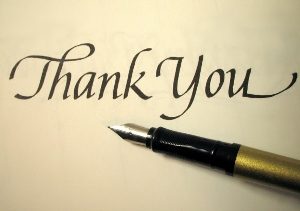 Recently I read about a CEO that hand writes 7,400 birthday cards annually for all his employees personalizing it with comments relevant to each person. In addition, when he hears about random acts of kindness in the workplace, he sends a thank you note to the individual letting them know their efforts didn't go unnoticed.
These small gestures have paid off big time. Over the years Sheldon Yellen has created a corporate culture of compassion at Belfor Holdings, a billion-dollar disaster relief and property restoration company. People feel valued. When people feel valued productivity is maximized, employee engagement increases and company loyalty prevails.
Cha Ching!
As a motivational speaker of fifteen years, I travel the country to deliver keynotes at conferences and meetings for a wide range of industries. The #1 complaint I hear from employees everywhere is that they don't feel appreciated for the work they do. Most would leave their job in a nano second if they could.
People join companies but leave bosses. Yellen says focusing only on profit and forgetting that a company's most important asset is its people will ultimately stifle a company's growth.
Smart guy.
In my keynote speeches I emphasize the power of using positive words to boost teamwork and build rapport with peers and customers alike because regardless of what business you're in, you're in the people business. It's all about good relationships working together to impact the bottom line.
Simple stuff, right? But in this age of technology overload where digital communications rule, the power of the personal touch needs to be remembered.
Thanks for reading this! Now reach out and touch someone (in a good way)