The Personal Touch that Makes Big Business Cents
Whatever happened to the service part of Customer Service? Have you ever bought something online, found it didn't work, then tried to find a customer service phone number on the company's website? How much time have you wasted on hold for a real live person to talk to in a business?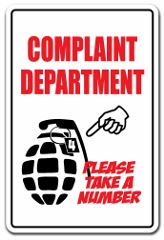 Customers are the reason anyone is in business, yet Customer Service sucks a lot of the time. Why?
As a professional speaker across the country, I hear numerous employee complaints. Many cite an overwhelming workload, some say there's little or no staff development/training opportunities, others admit they're only with the company for the benefits. But the main beef is about bosses. Managers that don't communicate, appreciate or encourage workers. Combine all these complaints and you have the reasons why employee engagement/productivity is down to a third of the workforce today (Gallup poll 2017).
Discontented, disengaged workers = lousy customer service.
I remember when I was the opening keynote for an organization's Customer Loyalty conference in Dallas. The company employed 500+ people, had been in business over 30 years, staff turnover was almost zero and their customer base

was steadily increasing annually. Very impressive. I asked several employees why everyone stayed so long and the answer was: "We're like a family with a common purpose. Everyone is treated with respect and courtesy from the CEO to the janitor." Happy employees, happy customers.
Simple common sense that apparently is not so common: When people feel valued they work harder and stay longer.

How much does it cost for leaders to give support and appreciation to team members? Errr, nothing.
How much does it cost to constantly train new people? Errr, lots.
People join companies but leave bosses. Leaders, listen up!