Learn this from the Superbowl to Supercharge your Success!
Superbowl 2017 is over.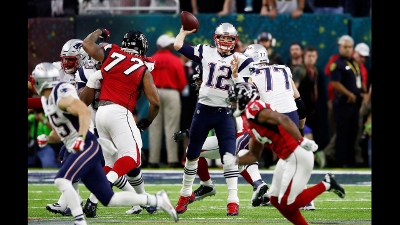 Tom Brady rocked. The Patriots ruled.  Just like millions of others, by half time I thought it was over, so I quit watching and left the party I was attending only to wake up the next day and discover The Patriots made the most amazing comeback of all time. Way to go guys.
That said, so what, you ask?
In my motivational speeches on any given topic, I emphasize the power of passion and perseverance and how the most successful billionaires, athletes and entertainers all started with the same thing in common: they had a passion for what they do that fueled the persistence needed to keep trying.
Most people give up too soon on their goals and dreams. At the first sign of a challenge they're out. Thomas Edison failed 1,000 times before he invented the light bulb (thanks to him we're not sitting in the dark) Walt Disney went bankrupt several times before he built Disney World. Billy Joel faced so much adversity in his younger years struggling to make it as a musician, he actually attempted suicide.
The Patriots' win demonstrates the power of persistence and the very real benefit of hope. When you're facing a situation riddled with difficulties, remember Superbowl 2017. Be inspired by the determination and courage The Patriots showed and keep on trying. The upside of challenging situations is: everything is subject to change. And change is the only constant in life.
Sing me a song you're the Piano Man……