Get like Gumby, Reap the Rewards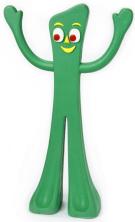 Are you all stressed up with nowhere to go? Do your co-workers consist of five generations with a 'know-it-all' attitude? Are you a whiner or a winner?
One of the coolest things about being a motivational speaker is I get to meet all kinds of diverse sections of the workforce in different industries across the country. After sixteen years of hearing complaints about bosses, co-workers, policies and pay checks, I've noticed some common threads of discontent: they all involve people, communications and attitude.
I don't know about you, but I used to be one of those people with the mindset: "my way or the highway!" If people of another age group had a new idea how to do things, I would automatically dismiss them based on the mere fact they were older or younger than I was, so they didn't know what they were doing. When there was a set schedule of things to do within a certain time frame at a meeting, I would get all bent out of shape if it went awry (and I don't mean in a cute Gumby fashion) The end result was always the same: frustration, stagnation and stress for me, resentment, negativity and stress for everyone else.
Most of us want things to go our way most of the time. The problem is: other people don't think the world revolves around us. (Really?)
The ugly truth behind workplace issues and personal challenges is that it all starts with our own attitude. Things can work out smoother for everyone when we're flexible. Just like Gumby….go with the flow, chill 'n' hang, be more rubbery 🙂
Recently I was the closing keynote for a conference of 400 women in Alabama. The agenda was set, my start time confirmed and I was well prepared to give the 90 minute high energy speech I had customized for this group. I was to go on after lunch and end up their event with an uplifting BANG! Halfway through lunch the meeting planner sitting next to me said: "We're running half an hour late, can you cut 30 minutes from your presentation?"
Yikes!
Wondering if I would make any sense doing a quick edit, I plunged into my program from the top and worked in the interactive games, played piano to emphasize points, organized multi-generational teams to participate in exercises, told my stories, engaged the millennials (whew!) and cut short the last half hour. Wait, what? Did they realize I chopped the entire last point of the program?
No, they didn't know there was more. No, they didn't care. They gave me a standing ovation.
The point was about being flexible with a smile.No whining, no excuses, no attitude. The results? Happy audience, happy client.
Gumby rocks.