The Magic of Music for Healthcare: Watch your Granny Rock!
It's no secret that music has the power to inspire, uplift and unite people. If you've ever been to a live concert, chances are you saw people of all races, religions, ages and walks of life in the audience.

Sports and entertainment seem to be the two platforms where people forget their differences and celebrate their sameness.
I've been a professional pianist for over 25 years in thirteen countries around the world and have personally witnessed the transformation of people, spaces and energy through the music my fingers produced. In some cases, it's been nothing short of a miracle and I talk about it in my presentations as an entertaining motivational speaker.
In between traveling the country delivering keynote speeches, I entertain at numerous senior living communities in Houston, Texas where I live. Some audience members have varying stages of Alzheimer's and/or dementia. They can't tell you their name or what they just had for lunch, but they remember all the lyrics of songs from their childhood that I play during the program.
It's amazing.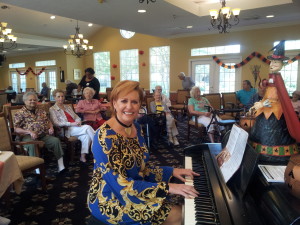 Yesterday I was about to start my one hour show for an Alzheimer's group and there was a 94 year-old woman in the front row who has forgotten how to talk. Miss Annie is in a wheelchair and can't walk. The minute I began playing 'Hello Dolly' she raised her hands and moved them side to side in tempo and sang along. She 'chair danced' her way throughout the entire program while all the caregivers laughed and sang along with her.
The atmosphere was charged with energy and joy. Laughter prevailed. Patients faces lit up, eyes bright, smiles wide. Stressed out caregivers relaxed and got a much needed break. 
Whether you're caring for an aging parent or working as a healthcare professional, utilize the power of music to soothe the spirit, reduce stress, uplift a mood and calm aggressive behavior. 
Music is the stuff miracles are made of. Use it to help in the healing process and watch what happens.